Occupy Wall Street.
The name is synonymous with group protests, our walk to work being blocked in the morning, and people peeing in tents. It is also synonymous with confusion about what change means and what is necessary to better the world.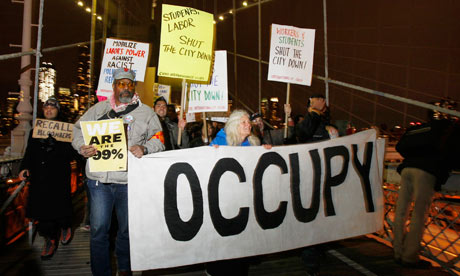 Being the deep thinkers that we are, we realize we have to think about this matter as well. Because thinking about the Kardashian / Humphries split all day is just not healthy for us anymore. And so, we thought of this: the protests have been taking place in the wrong location all along. The real issues are happening right next door in Brighton Beach! Issues that complicate our very existence and must be dealt with at once. AT ONCE!
So instead of occupying Zuccotti park or whatever their new residence is, we're going to OCCUPY BRIGHTON BEACH, creating a new global movement. With our garmoshkas in hand.
Our demands are simple. Our demands are clear. Our demands are below:
Free tanning for those in need. No one should be forced to walk these scary streets pastey. NO PALE PERSON LEFT BEHIND.
Speaking of walking, if we can't do it in Louboutins, we won't do it at all! We're both size 7, in case you're wondering.
Give us Lexus, or give us death! (Or at least give us an Audi)
We need shelter, we need warmth. We need SHOOBI! Long ones only, please.
And most importantly, we demand free healthcare for our aging population… AKA botox for all ages 35 and up.
Now you know our demands. Tell us yours in the comments below. We need your support.
Remember, WE are the 99%!!!!